A running program made
just for you by a pro coach
Every runner is unique. Your training should be, too. When you join Runzy, you'll get your own personal coach who crafts you a tailor-made plan for your goals and supports you the entire way.
Custom-built workouts

Each and every workout on your training calendar is tailored to your goals and fitness.

Personalized feedback

Your coach readily provides actionable feedback and adjustments to help you become a better runner.

Unlimited access to your coach

For personal accountability, support, and adjustments to your plan. Your coach is just a message away.
Smarter way to train
Runzy provides a seamless training experience that removes the complexity and stress of training, so all you need to focus on is your running.
AS SEEN ON
MarathonGuide
"Whether it's your first step off the couch, or your last step across the finish line, the personal coach you get with Runzy provides a comprehensive program and a clear path toward achieving your goals, regardless of your ability or experience."

Chuck "The Marathonjunkie" Engle
Winner of 209 marathons
The easiest way to reach your running goals
Become your best self with the personalized running program made just for you. Whether you're an experienced runner or brand new, Runzy can help.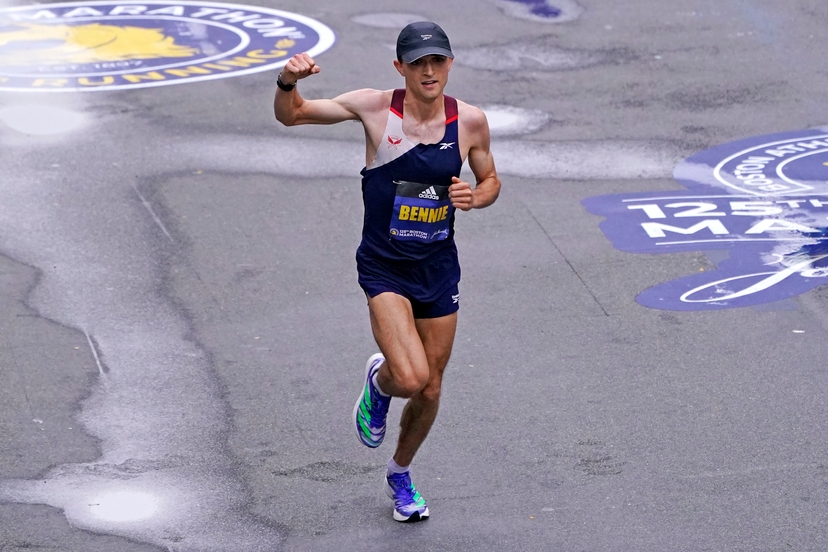 If the fastest runners in the world rely on coaches to train smarter, then why can't everyone? Runzy offers runners of all levels the chance to work with a coach and achieve their individual goals and PRs.
Colin Bennie
Runzy Coach
Professional runner, Top 7 finisher of Boston Marathon 2021
MADE FOR EVERYONE
Runzy is built for runners of all levels
We've helped beginners start new running habits and accomplished runners to set new PRs. And everything in between. Meet some of our coaches.
Beginner
We believe anyone can be a runner. If you're new to running, your coach will help you start a healthy running habit.
Intermediate
You've got some miles under your belt, and you're ready to take the next step. Run farther and faster with Runzy.
Advanced
You're ready to reach your full running potential. Runzy will help optimize training to get you that PR or BQ.
Community
Runners love Runzy
"My favorite things about being coached by Runzy coach were 1) their menacing workouts that you don't think you can do, but he knows you can do, and after you do them you feel amazing, 2) the coach will tap your untapped potential to produce a PR nearly every race, 3) their personalized training regimens that really were unique to me."
Julie H.
San Francisco, CA

"I especially appreciate the rigorous and high quality training schedule that a coach put together for me. Despite the difference in fitness levels, the coach treats each one of his students seriously and sets challenging expectations for them. Unlike most trainers / bootcamp type programs that I've worked with in the past, there was nothing watered down about my experience at all, which is unique."

"This program was perfect for me. The workouts and notes were always pushing me and a coach always had my best interest. The past year with my friends, family and others that would compliment me on my running and speed, I would refer to you as my phenomenal coach. Even when other trainers tried to give me tips, I would tell them I am all set, I already have a coach/trainer!"

"Runzy's coaching is terrific.I couldn't have asked for more. The coach helped me accomplish my goal in a way that was manageable for me. Thanks to my coach - by helping me run the Boston Marathon you really changed my life."

"This is a heck of a product. I really enjoy working with a coach, and strongly recommend coaching to others. Access to the coach's expertise provides good value for the money."
Jason S.
San Francisco, CA

"Joe's coaching style is excellent. He pays attention to details, provides thorough analysis of problem areas and creates workouts that consistently challenge me and help me to improve!! Thanks!"